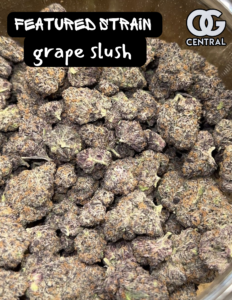 Featured strain!
GRAPE SLUSH
Enjoy the bursting sweetness of grapes and some earthy undertones when you take your first puff of Grape Slushie. The flavours only intensify as your nose gets filled up by the teasing aroma of red wine. This particular weed strain will give its users the creativity they need to finish artwork or compose music or whatever kind of art they're into. Feel an immediate clear euphoric high that can be felt for hours. The high can also result in a happy and giggly baked.
Featured product!
MEDICATED NERDS ROPES
They are essentially soft, gummy ropes, similar to the ones you'd find in traditional Nerd Ropes, but with a significant twist: they are infused with cannabis. The gummy rope is coated with crunchy, tangy Nerd candies, providing a textural contrast and a flavor burst that blends the sweet and sour in perfect harmony.
featured product!
GRAPE MOONROCK
Grape Moon Rocks are made from OG Kush bud, dipped in hash oil, and powdered in kief!It is recommended that you do not use your grinder when preparing your Grape Moon Rocks as you may lose a lot of kief in the process. For the best smoke and taste, tear the moonrock into small pieces and smoke it in a pipe or bong.
featured strain!
WHITEWALKER OG
Whitewalker OG has been described as potent, sticky, and super dank. Lots of piney aroma and flavor. Whitewalker OG eases your mind and relaxes your body. Great for relief from pain, stress, depression, insomnia, and muscle spasms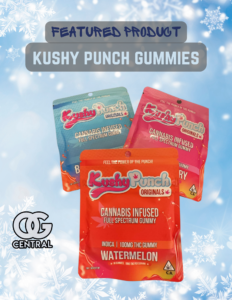 KISHY PUNCH GUMMIES
KushyPunch is one of the nations iconic cannabis brands, and the top-selling gummy in the Golden State. Our locally sourced full spectrum oil, our science-forward approach and lush full body high has made us a favorite for legal consumers everywhere.
BERRY RUNTZ
Blueberries, raspberries, blackberries, strawberries—anything with a berry in its name is sure to taste "berry" good. Many people consider berries a superfood; they are really beneficial fruits for health and full of medicinal properties.
Apparently, the Berry Runtz strain also shares these delicious characteristics. This exquisite and highly sought-after hybrid strain has been gaining ever-increasing popularity among cannabis users worldwide.
Sweeter High 1000MG Party Syrup
Enjoy the Smoothest & Sweetest high with this 1000MG Party Syrup. Curated with High Quality extracts in small batches here in California. Mix a large quantity with drink for a party or splash some in your lunch soda! Sweeter High delivers a Microdosed High that will ensure every event is upbeat and never sleepy. Join the Sweeter life with any of their wide range of premium canna-edibles.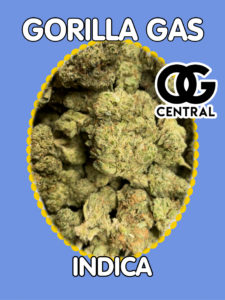 Gorilla Gas
Gorilla Gas is an evenly balanced hybrid strain. It boasts a super high level of potency and a long lasting and buzzy high that will have you feeling lifted yet relaxed for hours and hours on end. You'll feel euphoric with a sense of inner peace that ebbs. These calming effects are perfect for treating conditions such as depression, cramps or muscle spasms, chronic pain and chronic stress or anxiety. This bud has a super spicy and peppery earthy flavor with a touch of woody pine upon exhale. The aroma is even heavier, with a pungent diesel overtone that's accented by spicy black pepper and sharp woody pine. Gorilla Gas buds have dense long pepper-shaped dark olive green nugs with deep purple undertones, orange hairs and purple-tinted white crystal trichomes dripping with sweet sticky resin.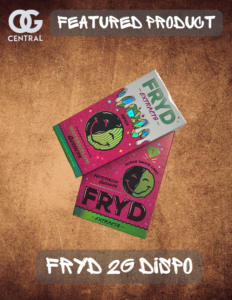 FRYD DISPOSABLE
FRYD Extracts is a well-known brand of Live Resin and Liquid Diamond cartridges that have made a name for themselves in the cannabis market. These Fryd Disposable vape are recognized for their exceptional quality, strength, and delectable tastes that are unrivaled by other brands. With Fryd Disposable vape , you can have a quality vaping experience that is sure to satisfy your demands. Fryd Disposable Live Resin and Liquid Diamond is a cannabis concentrate produced.
WHITE WIDOW💨
White Widow is a hybrid weed strain made from a genetic cross between a Brazilian sativa landrace and a resin-heavy South Indian indica White Widow has an earthy aroma with an ammonia-like scent and hints of pine but, according to some, lacks the flavorful profile found in many of today's strains
BLINKER DISPOSABLES OR CARTS
For the best all-in-one experience, look no further than Blinkers' THC Disposable Vape 2000mg Pens. With top-tier ingredients and the most blissful effects, these sleek little devices pack a powerful punch. No chemical additives and artificial flavorings, which is why all of Blinkers' disposable vapes are naturally flavored with terpenes. Sick of your disposable vape pens running out of battery before the juice is gone? That's why Blinkers designed these pens to be fully rechargeable. Best of all, these disposable vape pens are incredibly simple to use – one button operation.
WHITE WIDOW
White Widow is one of the most famous strains worldwide, first bred in the Netherlands by Green House Seeds in the 1990s. Its buds are white with crystal resin, warning you of the potent effects to come. A powerful burst of euphoria and energy breaks through immediately, stimulating both conversation and creativity.
10@$80
Featured product!
CAKE DISPOSABLE
Authentic Cake Disposable; present the most potential dispensable in the market now, additionally with high-grade oil standard equipment and lab-tried. Extra. Cake disposables test at a whopping 90% thc & are perfect for gatherings and events!!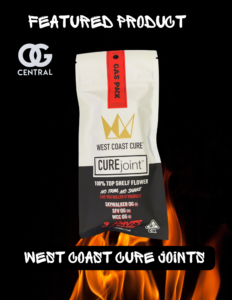 Featured product!
WEST COAST CURE 3PK JOINTS
West Coast Cure's Creative Pack provides a 3-Jay offering of Cured Joints for the artistically inclined. Created from some of the fruitiest gas hybrids available, this pack of 1 gram joints represents an uplifting and motivational experience. A great choice for artists, musicians or anyone who is looking for some inspiration, these joints are a delicious way to empower your creative moments.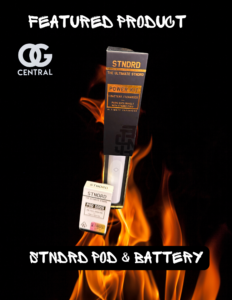 Featured product!
STNDRD POD & BATTERY
STNDRD now offers you a battery & pods system! this discreet vape is perfect for on the go use & is super potent. the slick white battery is visually appealing and the pod is a full gram
Featured product!
SOUR FLOWER
SOUR FLOWER provides an uplifting sativa high and is good for relieving pain and anxiety. The most abundant terpene in Sour Flower islimonene, followed by caryophyllene and pinene. this strain is a distant descendant of super sliver haze. this strain hits with a strong, relaxed cerebral high with a case of the giggles!!
Featured product! 🌬
Seeking out the very best. That's where we started – with the best flower. We didn't stop there, either. Combining the best badder, with the best CBD, and even the best papers, to make a preroll that's like nothing else on the market. The first time you see our product, you'll notice the CBD crystal coating. The first time you taste it, you'll feel instant satisfaction.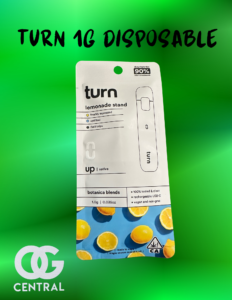 Featured product! 🌬
TURN DISPOSABLE
A Turn Disposable Vape is a type of cannabis vaporizer created by the company Turn. It is a convenient and easy-to-use option for those who want to enjoy the benefits of cannabis without the hassle of traditional methods!!
Featured strain! 🍁
GREEN GODDESS
Much like its parent strain–Skunk #1–Green Goddess cannabis starts with quite the cerebral euphoria that is both happiness-inducing and mind-debris clearing in its effects. While quite profound in its efficacy, Green Goddess accentuates and focuses a user's mental state as opposed to overwhelming it!!
Featured product🍪
SESHNZ SHROOM GUMMIES 🍄
Proudly grown and produced in the U.S.A. Seshnz provides high quality psilocybin products that offer an experience to be more aligned, present, and grounded. Enhance your mind, body and soul with a Seshnz in nature to feel more aware, positive, productive and energized !!️
Featured strain🍁
BUBBLEGUM KUSH 🫧
BUBBLE GUM KUSH, also known as "Bubble Gum Kush," is an 80% indica marijuana strain from Bulldog Seeds in the Netherlands, Bubblegum Kush is a cross between bubble gum and an undisclosed Kush. An easy-to-grow plant that produces huge yields of frosty, resinous buds, it is popular with growers and hash-makers alike. Bubblegum Kush has a sour smell and flavor, and with a THC content in the 18% range, this indica will leave users fully relaxed and glued to the couch !!️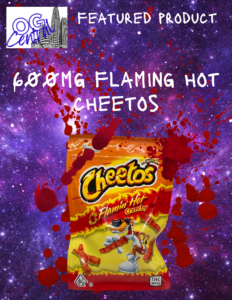 Featured product! 🌬
MEDICATED HOT CHEETOS
The great taste of extra flaming hot Cheetos but with an extra kick of THC. Medicated Cheetos taste great and provide medicinal THC – try starting with 1 or 2 Cheeto chips to gauge how you feel and how the THC affects you.!!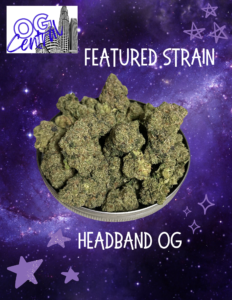 Featured strain
HEADBAND OG
The Indica dominant hybrid HEADBAND OG is a cannabis strain known for creating a mild tightening sensation around the cranium, hence its name. A cross between sour diesel and og kush Headband OG produces high THC levels making it a sought-out strain for veteran consumers. Reviewers have noted that the high of Headband OG comes on slowly, starting with an uplift in mood coupled with a long-lasting full-bodied stone that leaves them feeling like they're wrapped in a blanket of euphoria.!!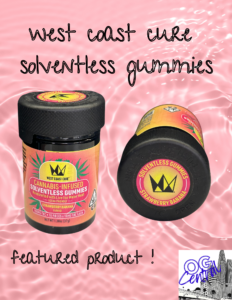 Featured product
WEST COAST CURE SOLVENTLESS GUMMIES
WCC'S FLAVORED SOLVENTLESS GUMMIES are made with food-grade live ice water hash and enhanced with delicious natural flavors to offer a smoke-free on-the-go option for consuming cannabis. These whole-plant and full-spectrum gummies will give you a clean and holistic experience that THC distillate gummies may not deliver. Enjoy these vegan-friendly, all-natural treats that give you a better vibe with every bite.!!
Featured strain
PURPLE BISCOTTI
PURPLE BISCOTTI is a potent indica-dominant hybrid marijuana strain made by crossing gelato 25 with sour florida og. This strain produces a cerebral high that leave consumers feeling relaxed, creative, and buzzy from head-to-toe. The effects of Biscotti are known to creep up on consumers, so it's best to take it slow with this strain. In terms of flavor, Biscotti tastes like sweet cookies with undertones of diesel.!!
Featured product🍪
FRYD 2G DISPO 🌬
FRYD Extracts are known for their wide variety of strains. They offer a range of different Indica, Sativa, and Hybrid strains, each with its unique aroma and effects. This allows users to choose the perfect cartridge for their specific needs, whether they are looking for a relaxing and sedative high or a more energizing and uplifting experience ive Resin is a type of cannabis concentrate that is made by flash-freezing freshly harvested cannabis plants and extracting the essential oils while the plant is still frozen. This process preserves the terpenes and cannabinoids, which gives Live Resin its distinct flavor and aroma. FRYD Carts uses this process to create its products, which is why they are so flavorful and potent.!!️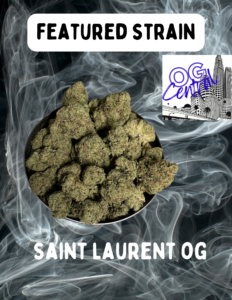 Featured strain🍁
SAINT LAURENT OG
SAINT LAURENT OG is a popular indica marijuana strain bred with genetics from OGKush. This strain was originally discovered in Southern California, where the term "OG" originally meant "ocean grown." True OG is potent, with long-lasting effects combined with a more focused head high. True OG buds have a pungent, crisp and pine scent..!!️
Featured product🍪
ROYAL HIGHNESS GUMMIES 🍬
Crafted with care, ROYAL HIGHNESS GUMMIES are carefully dosed to ensure a consistent and reliable experience every time. We take pride in using only the finest ingredients, including premium cannabis oil and natural fruit flavors, to create a truly exceptional product.
Whether you're a seasoned cannabis user or just starting out, these gummies offer a delicious and convenient way to enjoy the benefits of THC. With a flavor that's out of this world and potency that packs a punch, Royal Highness Gummies are the perfect treat for any occasion.!!️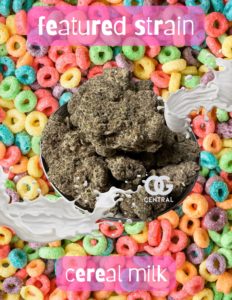 Featured strain🍁
CEREAL MILK 🥣
Cereal Milk is a hybrid marijuana strain from Cookies. Cereal Milk is made by crossing (cookies x cherry pie) Cereal Milk has a loud flavor with a sweet milk and ice cream notes that will keep you dipping back into your stash. You can expect dense, quality nugs dripping with trichomes and a potent high!!️
FEATURD STRAIN: DOMINOS OG (INDICA)
DOMINOS OG IS A UPCOMING STRAIN WITH SIMILARITIES TO CRITICAL KUSH. ITS A STRAIN THAT HELPS FIGHT STRESS, ANXIETY, AND INSOMIA . ITS A VERY EATHY SMELL AND PINNY TASTE IF YOUR A STRAIGHT INDICA LOVER THIS IS THE STRAIN FOR YOU.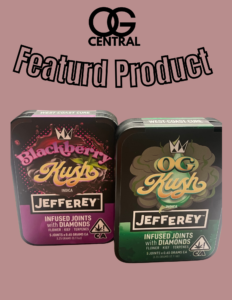 FEATURD PRODUCT: JEFFERY JOINTS COME IN A 5PCK AND VARIETY OF FLAVORS INFUSED WITH DIAMONDS. THERE A QUICK ACCESS JOINT READY FOR WHEN EVER YOU ARE THEY ARE PACKED FROM A PREMIUM FLOWER WITH A GREAT SMOOTH TASTE .
Featured strain: Godfather OG
Because this is an indica strain, and due to its very potent nature, it produces a strong body high.made by crossing XXX OG and Alpha OG The effects of this strain are sedating and relaxing. Godfather OG is the go-to strain for medical marijuana patients looking to relieve symptoms associated with insomnia
Lyt 5G Magic Mushrooms
This bag of magic gummies is a great adventure ready for you and your friends. Experience life from a different perspective , remove all those bad vibe and thoughts and flush away. Become a new you feel the real world, and enjoy all there delicious flavor which helps eliminate that nasty mushrooms taste.
Xj-13
Xj-13 is a piney aromatic strain filled with so many pro's on to why xj-13 might be the strain you've been looking for. If your in the look for something to stimulate your creativity xj-13 will open that door in your mind and motivation to fulfill any project pending. This amazing flower is a mixture of different haze meaning it's more sativa leaning has a great euphoric buzz.
Featured Product:
SWEETER HIGH
Sweeter high syrup currurated an THC syrup that can be taken on its own. Be aware THC Syrup is often stronger than other edible options, you should only take one or two spoonfuls at a time. It is a fast acting edible with an 1,000MG Yet still more potent than most gummies or other infused foods. Effects kick in as quickly as 15 minutes from consumption.
Featured Strain:
HARDCORE OG
is a potent indica-dominant hybrid marijuana strain made by crossing Big Bud with DJ Short Blueberry. Hardcore OG is a California strain bred with the stalwart cannabis veteran in mind. Its dense, pungent buds produce thick coats of resin that can be extracted for potent
Featured Product:
Madre live resin carts contains the same range of compounds found in the plant, the actual THC content is higher. Live resin can be as high as 80-90% THC. Certainly lower than distillates, but this is still a potent concentrate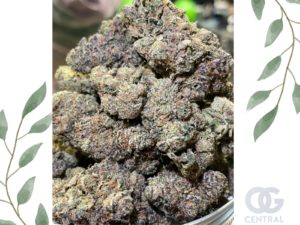 Featured Strain:
Jealousy was originally bred (created) like other known big-name strains like Wedding Cake, Ice Cream Cake, and LA Kush Cake. Genetically, it is a cross of Sherbert Bx1 and Gelato #41. It's been used to create other popular strains like Jealousy Pie.
Featured Product:
WEST COAST CURE SOLVENTLESS GUMMIES
WestCoastCure solventless gummies are a Hybrid treat for the senses. These edibles are created with a sophisticated palate in mind. Crafted with 10mg of THC, they're made from live ice water hash, vegan-friendly, and offer tropical hints of raspberry, mango, apricot, and passionfruit.
Featured Strain:
PURPLE CAKE
Purple Cake AKA Purple Cake Batter is a 70/30 Indica-dominant hybrid of Cake Batter and Purple OG. You will be filled with happiness as well as a focus while your body relaxes.
Featured Product:
MAGIC KINGDOM (4G BARS )
Magic kingdom 4 g chocolate bars are infused with high potency shroom psychedelics. Tested for micro dosing for a calm and relaxing natural high.
Take a high dosage for pure psilocybin affect.
Featured Strain: SNOOP DOG
Named after the rap artist and cannabis enthusiast, Snoop Dogg OG is a 70% indica-dominant hybrid strain that is said to contain genetics from Lemon OG and Sour diesel making this strain remarkably similar to OG Kush in both aroma and bud structure. Snoop Dogg OG begins with a wave of racing creativity that later into balanced focus and appetite stimulation.
Product : Atonic infused Joints
Made by Crazy mind company
TAtomic 24k Gold Shatter Wax Infused Preroll contains 1.5g of flower, infused with shatter wax, and rolled in a 24k gold cone! It's the ultimate preroll for the ultimate cannabis lover.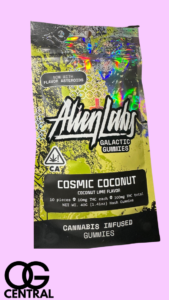 FEATURED PRODUCT 100MG ALIEN LABS GALACTIC GUMMIES
ALIEN LAB GUMMIES IS A NEW VEGAN GUMMIES MADE OUT OF HASH AND NOT LIVE ROSIN. THEM BEING MADE OUT OF HASH AVOIDS THAT HARSH CANNABIS FLAVOR ALOT OF US DON'T REALLY LIKE. THEY'RE MORE FOR A SETTLE HIGH SINCE THE PACKAGE IS 100MG EACH GUMMIE IS ONLY 10MG.
Strain : Hybrid
Sativa Dominant with A mix of blueberry and Haze . Strong Thc with 18% it's best for relieving chronic stress and depression. Even though sativa has a strong presence it's one of the most popular strains focused on sleeping .
Featured Product:
2gram disposable vape made by Fkem brand .
These wax vapes are perfect for discretion And filled with an extra gram than usual for a longer lasting high, with a ceramic heating coil plus higher quality battery life so it's perfect for the best quality air flow .
Featured Strain:
Rainbow Belts
Hybrid strain Rainbow belts cross between Moonbiw and Zkittlez creates a calm and euphoric high . With a higher thx content it has sedating qualities with a Fruity twist . Helps with depression and insomnia
Featured Product:
Dabwood vape 1g and ½ gram
Watermelon z with 18% thc highly potent ore filled concentrate oils . Nice film Terp taste with a hint of Watermelon
Featured Strain:
Faygo Og is a new upcoming strain alot of people always get confussed with Tahoe Og. This flower is indica dominate very peacful, earthy state of mind that fades over time to a full body relaxation.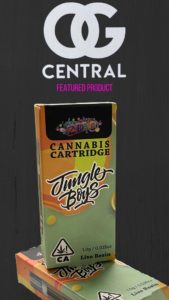 Featured Product:
Jungle boyz vapes are a great way to get medicated with the full discretion. Vape Cartridges contain concentrated cannabis oil that's heated by a battery. There are variety of strains some are relaxing, happy, uplifting all depends whats your in the mood for.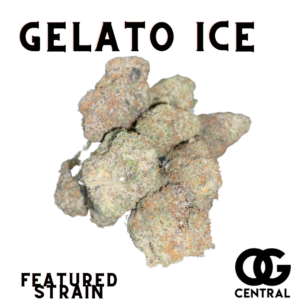 Featured Strain:
GELATO ICE
This Gelato Ice is a mouth-watering dessert hybrid strain made by crossing Ice Cream Cake
and Gelato 41. The effects of Ice Cream Gelato are believed to be euphoric, relaxing and a little
sedating. The original breeder of Ice Cream Gelato is Seed Junky.
Featured Product:
JUNGLE BOY CARTS
Jungle boys carts are made of high-grade distillates and terpenes infused with a blast of flavors
from pink runtz to rainbow belts. With 90% THC oil jungle boys cart is perfect when your on the
move.
WEST COAST CURE LIVE ROSIN
This terpene-rich product is ready to punch you with flavor and aroma when heated to the desired temperature.. West Coast Cure extended its shelf life by locking in the whole plant's terpene and cannabinoid profile. The slightly firmer texture makes it an easy format to dab with any smoking gear !
HELL FIRE OG
This Californian hybrid is mixed with OG and more fire OG ! Hellfire OG is the perfect THC powerhouse for the cannabis veteran or the patient needing heavy potency!
Featured Product:
TURN 1G DISPOSABLE
Turn is not only Organic, It's Fresh and Flavorful. From seed to pen, you are guaranteed pure California goodness. You can choose from a wide selection of high potency, exclusive formulations, plus hand curated Botanica Blends strains to get the perfect floaty feeling you've been searching for.
Featured Strain:
DINERO OG
Dinero OG is an indica weed strain made from a genetic cross between OG Kush and an unknown strain. Dinero OG effects include sleepy, hungry, and relaxed. Medical marijuana patients often choose this strain when dealing with symptoms associated with stress, pain, and insomnia.
Featured Product:
Golden Teacher Penis Envy mushrooms result in something that looks and feels quite otherworldly; tangled, thick fungi that bruise blue when touched.When ingested, psilocybin is metabolized into the compound psilocin by the human body. The result is a psychedelic trip: a mind-altering experience that changes your perception of space, time, and sense of self. Feelings of nausea, anxiety, discomfort, and distress can accompany a psychedelic experience—factors that are made worse in uncomfortable environments.
Featured Strain:
GRAPE APE
Grape ape, is a mostly indica strain that crosses Mendocino Purps, Skunk, and Afghani. Named for its distinct grape-like smell, this indica is known for providing carefree relaxation that can help soothe pain, stress, and anxiety. Its dense, compact buds are wreathed in deep purple leaves which darken as this indica reaches full maturation following its 7 to 8 week flowering time.
Featured Product: JEFFEREY
Jefferey is an Infused Joint crafted with flower, Live Resin Diamonds, and kief. Laced with all-natural terpenes, these .65g infused joints are deliciously strong for a solo session or for sharing with the homies.
Featured Strain: CHERRY PIE,
Cherry Pie's parents are Granddaddy Purple and F1 Durb. With buds that are dense and full of orange hairs and a touch of purple, this hybrid strain smells of sweet and sour cherry pie. The effects have been known to come on in minutes and stick around for a couple hours.
Featured Product: dabwoods
Created by Dankwoods, Dabwoods 1 Gram disposable vape pen is a convenient & clean way to get your high on the go! Filled with 1 Gram of concentrate made from premium cannabis, this disposable pen comes in six different strains: Biscotti, SFV OG, King Louis OG, GSC, Trainwreck, & Blue Dream. Not only is this disposable convenient because it can be thrown away after use, but it can also be recharged if you prefer a high voltage puff!
Featured Content Featured Strain
Zookies is a crazy-named, peppery, cramp-relieving strain from the Cookie family. Alien Labs created this 50/50 balanced hybrid strain from Gorilla Glue #4 and Animal Cookies. Be warned that it sits in the mid-20s for THC so only users with a good amount of experience should apply for a job at Zookies. The high lasts long and hard in your head, calming and distracting you, and then progressing through the rest of your body. An appealing aroma tops the list of reasons people keep coming back for Zookies.
Featured Product: Baby jeeters
In each jar, you'll find a hand crafted, hand rolled 5 0.5-gram Jeeter joints. They're made with premium indoor grown flower, infused with Liquid Diamonds in California and Michigan or distillate oil in Arizona, and dusted in kief. 5-minute burn time each.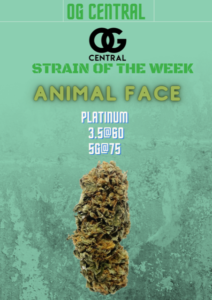 Featured Content Featured Strain: Animal face
Animal Face, also known as "Animal Face #10," is a rare sativa-dominant hybrid marijuana strain made by crossing Face Off OG and Animal Mints. It takes the piney, gassy terpene profile and potent high from Face Off OG and pairs it with the cookie-flavored smoothness of Animal Mints.
Featured Product: F'KEM GUMMIES
F'KEM managed to infuse a tasty selection of flavors into their small yet fast acting edibles. With each flavor packing it's own kick and mix, their is a favorite flavor for just about everyone. No matter if you have a high or low tolerance F'KEM made it easy starting from their 300Mg – 2,000Mg Edibles.
Featured Content Featured Strain: HOLY GRAIL OG
The Heavy Indica Strain is also known to be a creeper. The high is mellow and Stoney. The effects are arousing, relaxing and leaves the consumer happy. Perfect for your off days where you can just lay around or even for an three day weekend.
Blinker 2g disposable – With top-tier ingredients and the most blissful effects, these sleek little devices pack a powerful punch. No chemical additives and artificial flavorings, which is why all of Blinkers' disposable vapes are naturally flavored with terpenes.
Gelato – This delicious cultivar has a sweet, fruity flavor with a creamy finish. Gelato provides relaxing effects accompanied by an euphoric high. It is perfect for people suffering from muscle spasms, inflammation, chronic pain, and headaches.
STANDARD
1,000MG SOUR GUMMIES
Standard created a vegan yet fruity and tasty pure gummie infused with a sour kick. Easily dosable and digestible! Giving the perfect high.
GELATO
A cross breed of Thin Mint Girl Scout Cookies and Sunset Sherbert! The hues of royalty with a mellow High that leaves you both numb and relaxed. This strain is fast acting and sure to relieve pain.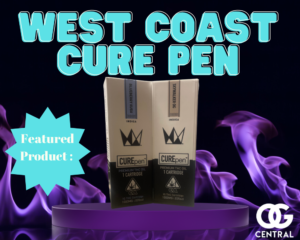 WEST COAST CURE PEN
( 1G ) Cartridge
West Coast Cure 1 Gram Cartridges provides Smooth and Tasty, Full hits of fresh premium THC
oils and terpenes. Sure to offer an euphoric and mellow experience!
WEDDING CAKE,
Wedding cake is the everyday strain , versatile which makes it perfect for every stoner. A very
potent indica- dominant marijuana strain that will leave you relaxed in both body and mind. The
strain is known to help relieve pain, insomnia plus lack of appetite.
MARATHON OG
a potent indica marijuana strain bred from a cross of OG Kush. Marathon OG produces euphoric and relaxing effects that may overwhelm a new consumer. This strain features flavors like lemon, earth and spice.
WEST COAST CURE ROSIN FRESH PRESS
Live Rosin Fresh Press is a high-end form of solventless concentrate. Extracted from fresh
frozen cannabis flower at peak maturation, the ice water hash is then pressed under controlled
conditions to form Fresh Press Rosin. The terpenes in our Live Rosin Fresh Press are locked in
until you heat it to your ideal temperature.
BLUE ALIEN
POWERFULL, SWEET SMELLING INDICA STRAIN THAT COMBINES GENETICS FROM
BLUEBERRY AND ALIEN KUSH. UIT HAS A SWEETBERRY AROMA THAT INTRODUCE ITS
DREAMY EUPHORIA AND FULL BODY CALMNESS. YOU CAN EXPECT A MORE SLEEPY
EFFECT AND THIS STRAIN IS SUGGESTED TO BE USE IN THE EVENING FOR
RELAXATION
Dime LR
Made with 100% solvent free oil and cannabis / botanical derived terpenes to ensure purity
9LB Hammer
These dense buds are coated in resin with a heavy and long lasting effect making it perfect for pain and stress relief
Blinkers 2G carts
$30
Strong premium THC cartridge with clear and clean Concentrate measured at 2 grams for long lasting medication. Comes in multiple popular strains to keep you faded on long trips and work events.
Oreo cookies
$35 8ths
This strain produces a long-lasting and relaxing high. Consumers should take caution as the high potency may be overwhelming to those new to cannabis. This strain has an aroma reminiscent of campfire s'mores, with extra delicious hints of chocolate and diesel.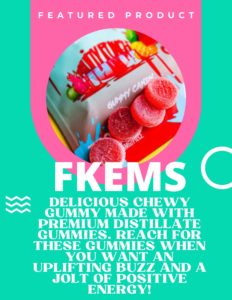 Fkem gummies
delicious chewy gummy made with premium distillate gummies. Reach for these gummies when you want an uplifting buzz and a jolt of positive energy!
Featured product
SAUCE BARS DISPOSABLE
$40 each
High quality distillate in a 1 Gram live resin disposable vape pen. Super convenient and ready to use. Micro-USB rechargeable battery for fast charging. Sauce Bar even has a built in window so that you can see the remaining level of your distillate. Available in various flavors!
Featured strain
LONDON POUND CAKE
10G for $75
PROVIDE ON OUR EXCLUSIVE SHELF AT A 36% THC LEVEL. THIS HYBRID STRAIN SEEMS TO OFFER A QUIET, RELAXING AND UPLIFTING HIGH THAT DOESN'T OVERPOWER YOU BUT GIVES YOU JUST ENOUGH STRESS-FREE VIBES. YOU MAY CATCH YOURSELF WANTING TO SINK INTO A COUCH AND JUST SMILE.
Featured product
Cbd water
boasts 10 mg of nano-CBD per BPA & BPS-free bottle and is alkaline (9+ pH) to decrease acidity and inflammation in the body.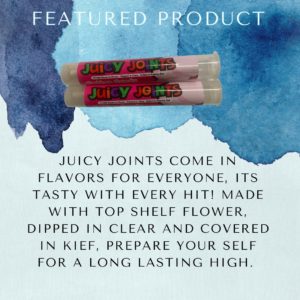 Featured product
Juicy Joints
Juicy joints come in flavors for everyone, its tasty with
every hit! Made with top shelf flower, dipped in clear
and covered in kief, prepare yourself for a long lasting
high.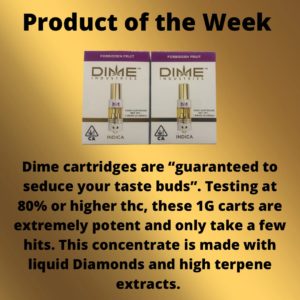 Featured product
Dime Cartridges
Dime cartridges are "guaranteed to seduce your taste
buds". Testing at 80% or higher thc, these 1G carts are
extremely potent and only take a few hits. This
concentrate is made with liquid Diamonds and high
terpene extracts.
Featured product
FCC Joint
FCC Joints are everyone's favorite. These joints are
guaranteed to give you that high you're looking for
every time. Infused with oil and moonrock, you're going
to want to put it out before you can finish it. This is not
your regular joint.
Featured product
Jeeter Juice Disposable
One of the purest ways to smoke, these delicious
Jeeter Juice disposables are extremely potent.
Containing live resin, you'll only need a few puffs to get
you to the level you want to be at. Made from fresh
flower, you'll get a smooth hit every single time. It even
has a straw tip that is 100% lead free
Featured product
Jeeter Joints
"The worlds #1 joint". Jeeter Joints are extremely
potent and have an amazing flavor! You are
guaranteed to put the joint out before finishing it.
Infused with cannabis oil and covered in kief, these are
one of the strongest joints testing at 35%.
Product of the week
Dabwood Vape
Get high on the go with Dabwood vapes! An extremely
discreet and very convenient way of smoking. A full
gram and it only takes a couple hits to get you where
you want to be. It's disposable so you can just toss it
out when you're done, no need to buy a whole battery!
Featured product
Rove Cartridge
Rove cartridges are perfect when you're out an about!
These affordable yet potent carts hit so smooth you'll
wanna keep going back for more. Leaving no aroma
behind, Rove carts are a super discreet way of
smoking for those secret smokers.
Featured product
Galaxy Gummies
With many different out of this world delicious flavors,
Galaxy Gummies will give you that buzz you're looking
for. These gummies are perfect for microdosing and
controlling your high. Theyre so delicious, you wont be
able to put the bag down!
Featured product
Boomerang Mushrooms
Fly into space and back with Boomerang Mushrooms.
This 3.5g pack of shrooms will give you that out of
body experience you're looking for. This psychedelic
will leave you a sense of happiness and euphoria. The
shift of perspective will help you get into a creative
mindset full of concentration and optimism.
Product of the week
Sauce Disposable Vape Bar
Feel good on the go with Sauce disposable vape bars!
With different strands and strains, theres a vape to fill
everyone's needs. Each vape is filled with 1g of
delicious flavor that will get you feeling right. It's super
convenient and discreet for those secret smokers.
Sauce bars are great for anxiety, stress, sleep, pain
and are for those who have a loss of appetite.
Magic Kingdom Mushroom Edibles
Gummies for $30
Bars for $40
Take a trip with Magic Kingdom mushroom edibles!
Our shroom edibles take you to another planet. These
4 gram packs will leave you with a sense of euphoria
and will give you that boost of serotonin & an extreme
amount of happiness!
Featured product
Uncivilx Carts
If you're ever looking for something to take the edge
off, the uncivilx cart will do you just right. The extremely
potent uncivil x sauce cart is a hard hit and requires
minimal hits for that desired high, as it sits at 1000MG
of the.
FKEM
300MG FOR $6
FKEM GUMMIES ARE BURSTING WITH FRUITY FLAVOR AND MADE WITH TOP- QUALITY CANNABIS DISTILLATE. REACH FOR THESE EXTREMELY POTENT GUMMIES WHEN YOU WANT A HEAVY BUZZ. BE CAREFUL NOT TO OVER DO IT, THESE POTENT GUMMIES DELIVER SERIOUS RELAXATION.
SAUCE BARS DISPOSABLE
$40 each
High quality distillate in a 1 Gram live resin disposable
vape pen. Super convenient and ready to use.
Micro-USB rechargeable battery for fast charging.
Sauce Bar even has a built in window so that you can
see the remaining level of your distillate. Available in
various flavors!
DABWOODS DISPOSABLE 😶‍🌫️

Dabwoods 1 Gram disposable vape pen is a convenient & clean way to get your high on the go! Filled with 1 Gram of concentrate made from premium cannabis, this disposable pen comes in six different strains: Biscotti, SFV OG, King Louis OG, GSC, Trainwreck, & Blue Dream. Not only is this disposable convenient because it can be thrown away after use, but it can also be recharged if you prefer a high voltage puff!
KING KONG OG 💨

King Kong, also known as "King Kong OG" and "King Kong Kush," is a hybrid marijuana strain. Mothered by Ed Rosenthal Super Bud, King Kong is indica-leaning and provides head-to-toe effects as strong as the giant ape himself.
RUNTZ DISPOSABLE 🔥

Runtz's terpene profile gives it a scent that's been described as sweet like the candy, it also bears hints of tropical citrus and wood. The flavor profile of Runtz doesn't stray far from its name or scent as it's also quite sweet and leaves a tropical yet earthen aftertaste.
FKEM EDIBLES🍓🍑🍒

FKEM fruit gummies are bursting with a delicious fruity flavor and made with top-quality, premium cannabis distillate! Reach for these extremely potent gummies when you want a heavy buzz or to medicate for pain management. Be careful not to overdo it! These potent gummies deliver some serious relaxation.
SAUCE DISPOSABLE 💨

High quality distillate in a 1 Gram disposable vape bar. Super convenient and ready to use! Micro-USB rechargeable battery for the slow smoker. Sauce Bar even has a built in window so that you can see the remaining level of your distillate. Available in various flavors!
BDAY CAKE 🍰

This strain offers sedating effects that leave your mind and body completely relaxed. Bday Cake features a creamy flavor profile with sweet hints of vanilla and sugary dough. This strain is reported by medical marijuana patients and consumers to have calming effects that help with pain, sleep, and anxiety
SKYWALKER OG 🍃

A dank and potent strain, Skywalker OG offers a super relaxed high with a nice blend of hybrid effects. An indica-dominant beauty that weighs in at 85/15, it's the lovechild of Skywalker and OG Kush. Like its namesake, it will bring strong kush attributes and leave you feeling like you're in the clouds for hours.
NERDS 800MG THC🍬

These medical Nerds are infused with 800 mg of active THC, making this one mighty awesome candy edible that only takes 60 minutes to fully kick in!
SKIZZLES

Delicious sour candy 🍭 infused with 800mg of THC , this candy take up to 60min to fully kick in!! Each serving is 40MG.
hybrid : A hybrid weed strain made by crossing Acai with Black Cherry Funk. The effects of Black Cherry Gelato are more calming than energizing. Reviewers on Leafly who have smoked this strain say it makes them feel aroused, hungry, and focused.The dominant terpene of Black Cherry Gelato is pinene, which is often associated with pine forest aromas. Reviewers tell Leafly this strain tastes like berries with sweet apricot undertones.
PINK PARADISE

sativa :Pink Paradise buds have neon green airy spade-shaped nugs with vivid hot pink hairs and a coating of frosty sandy white crystal trichomes. As you pull apart each sticky little nugget, aromas of pungent skunk and fresh vanilla and sweet florals are released. The flavor follows the same profile, with a sweet vanilla candy overtone accented by fresh flowery skunk and earth.It'ss known for its insanely gorgeous appearance.
Devour Medicated Gummies : Chamoy Peach Rings 🍬🍬🍭

Chamoy anything just hits different, and our Delta-8 peach ring edibles are no exception! Plump peaches are infused into a soft and chewy gummy ring which is then smothered in sweet and slightly spicy Chamoy. you've got yourself one tasty edibles experience!
PRODUCT OF THE WEEK

FKMS EDIBLES

Cannabis infused gummies 750 mg 10 piece each different exotic flavorsss ROTATING DAILY DEALS

HAPPY HOURS:
8AM-9AM, 4PM-6PM & 11PM-12AM

COME CELEBRATE WITH US
PATIENT APPRECIATION DAY EVERY 3RD AND 17TH OPEN EVERYDAY FROM 8AM-12AM
WANT EXCLUSIVE DEALS

!!FOLLOW US ON TELEGRAM & RECEIVE SPECIAL COUPONS!!
PRODUCT OF THE WEEK

WHITE RECLUSE

This is a whole new dimension in pre rolls 26.9% og flower 86.2% chem dog cake badder and live resin 99.99% ac dc cbd crystalline
ROTATING DAILY DEALS

HAPPY HOURS:
8AM-9AM, 4PM-6PM & 11PM-12AM

COME CELEBRATE WITH US
PATIENT APPRECIATION DAY EVERY 3RD AND 17TH OPEN EVERYDAY FROM 8AM-12AM
WANT EXCLUSIVE DEALS

!!FOLLOW US ON TELEGRAM & RECEIVE SPECIAL COUPONS!!
🚕🗽NYC DIESEL[SATIVA]🗽🚕-This rare taste delivers a powerful high that most often energizes users and activates their minds. NYC Diesel carries strong sativa genes from its Sour Diesel mother, while the father plant was either indica- or sativa-dominant. This strain is a good choice for busy days and social occasions, as it provides a peppy cerebral high with strong energy.
💜PURPLE RUNTZ💜[HYBRID]- Perfect Mixture of sativa and indica . This purple bud will have you in euphoria . This strand is known for its popularity but more of its unique taste.
5️⃣1️⃣5️⃣0️⃣ OG [INDICA]- Pure indica This bud has a classic sweet nutty cookie flavor with a lightly spicy pungent exhale. Known to treat chronic pain , insomnia and appetite. One hit will have you floating .
🧁 GNARLY CUPCAKE🧁- If you love sweets and weed this is the perfect snack for you . Hand made cannabis infused with high quality cannabis . These cupcakes come in Different flavors . Good for a dessert after lunch or dinner .
🤤🍫 CHOCOLATE BUTTER🍫🤤 (indica)- rich cocoa smell . This powerful indica strain gives off a powerful sedating body high. Great for a relaxing night after work .
💫🎀STARBURST🎀💫(sativa) – Sweet smelling strain provides upbeat and buzzy high with a Strong citrusy flavor , will leave you feeling both energized and relaxed. It is a well-balanced strain and can be used at any time of the day.
PRODUCT OF THE WEEK

🥤SWEETER HIGH CANNA LEAN🥤

✨1000MG OF THC PERFECT TO MIX IN WITH YOUR FAVORITE DRINK! AVAILABLE IN ASSORTED FLAVORS

ROTATING DAILY DEALS

😊HAPPY HOURS:

8AM-9AM, 4PM-6PM & 11PM-12AM

🎉 COME CELEBRATE WITH US 🎉

🎊PATIENT APPRECIATION DAY EVERY 3RD AND 17TH🎊

⏰OPEN EVERYDAY FROM 8AM-12AM⏰

❓WANT EXCLUSIVE DEALS❓

‼️FOLLOW US ON TELEGRAM & RECEIVE SPECIAL COUPONS‼️
PRODUCT OF THE WEEK

🧴STICKY AF STRIPZ🧴

✨2 STRIPS WITH 10 PIECES IN TASTY AF FLAVORS. COMES IN 800 MG OR 2000MG

ROTATING DAILY DEALS

😊HAPPY HOURS:

8AM-9AM, 4PM-6PM & 11PM-12AM

🎉 COME CELEBRATE WITH US 🎉

🎊PATIENT APPRECIATION DAY EVERY 3RD AND 17TH🎊

⏰OPEN EVERYDAY FROM 8AM-12AM⏰

❓WANT EXCLUSIVE DEALS❓